The Word invites us to sing with understanding (1 Cor 14:15). To this end, week after week, large numbers of believers carefully select songs to sing when they meet as a church, rehearse them, and lead the congregation in praise of God. How important it is that the people praise God with a solid theology in their lyrics!
By the grace of God, we have more and more songs centered on the gospel to sing with our brothers. We have a sample of this in the new album I will look at the King (find it on YouTube, Spotify and Apple Music), from the music ministry of the International Baptist Church, Adoración La IBI (in Santo Domingo, Dominican Republic). This production has eleven songs, among which the new lyrics "My soul sings to you", "Solo en Cristo" and "Miraré al Rey" stand out.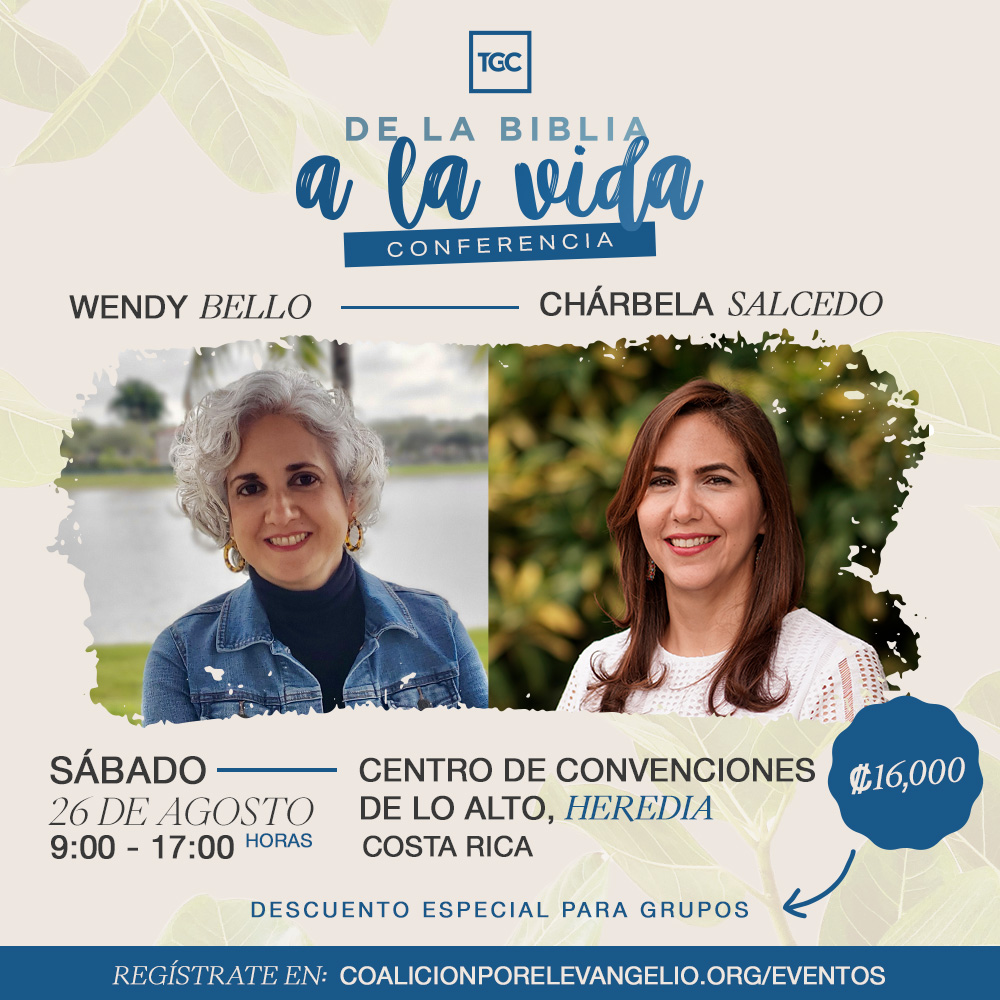 In this interview, Pastor Luis N. Núñez, director of Adoración La IBI and executive producer of I will look at the Kingin addition to being a musician, co-producer of the musical arrangements, co-author and co-translator of the lyrics of several songs on the album, tells us a little more about this new release.
---
Why release a new album of songs and how do you hope to serve local churches through this new music production?
Jesus told His disciples, "Freely you received, freely give" (Mt 10:8). As a ministry we have received much from God and, in addition to investing it in our local church, He has called us to share it with others, to contribute to the transformation of lives and the growth of the body of Christ in our Spanish-speaking world; all of which is part of the particular vision and mission of the International Baptist Church (IBI). Producing songs is something that God put in our hands and that we assume with fear and trembling, because of the great responsibility it represents, but also with a great commitment.
It is not a secret that for many years in the Hispanic world we had been running short of options in terms of congregational songs that had a good biblical content. In many songs there was, and still is, an emphasis on the human being and his emotions, rather than on God and his revelation.
Our conviction is that all corporate worship must be based on the Word. Praising God by singing his Word teaches us, frees us and helps us in difficulties; it makes us long and hope for his help and his salvation, which we have in Christ and for which we adore him (cf. Ps 119: 169-176). Likewise, singing his Word always focuses us on wanting to seek our joy and delight in it, a source of complete fulfillment.
Our conviction is that all congregational worship must be based on the Word
We want this new album, the previous ones and the ones that God wants to give us in the future to represent a few loaves and fishes that He wants to multiply to reach and feed many. Other ministries are also contributing to this need and are doing very well, thus showing the multifaceted grace of God. We are grateful to be a part of this movement and together contribute to the advancement of the cause of Christ, by proclaiming his gospel in song, recounting his glory and praise, for the blessing and edification of his church.
How did the song "Miraré al Rey" come about and why did you decide to title the new album like that?
We composed this song with the purpose of bringing hope and encouragement to the church so that it remains firm in this difficult time, when the shadows and hosts of evil seem to advance like never before and the truth is attacked, as well as the Christian values ​​of society. . The church is persecuted in different ways in many places and the faith of many is at risk of weakening.
We are inspired by passages such as Psalms 11 and 121, 2 Chronicles 20:12, among others, to sing truths as a battle cry that helps lift and strengthen the spirit of the church, encouraging it to trust and hope in His God. He is on his throne. He is the sovereign and just King, who observes everything and will do justice. He will save, help and guide his people in times of greatest adversity. That is why our eyes must be fixed only on Him. The concept of "looking at the King" applies to our entire Christian life: we must set our eyes on Jesus, the Author and Finisher of our faith (Heb 12:2).
We want, in the power and direction of the Holy Spirit, our worship to proclaim the glory of God and the person of Christ
When considering the songs on the album, we titled it «I will look at the King», since it works as a common thread that invites us to look at King Jesus as Lamb, as Savior, as Holy God, as Lord, as a good Shepherd, as Rock and Refuge. and as Helper in our afflictions.
He is the only hope and guarantee to finish the race; He promised to accompany us to the end; He is faithful. We must look to Him, the only worthy one and whose name is above all. We are to prostrate ourselves before Him in adoration. That is why we want, through the songs on this album, in the power and direction of the Holy Spirit, our worship to proclaim the glory of God, His character and attributes, and the person and work of Christ, our Savior, the King of kings and Lord of lords.
Both the song "Only in Christ" and "The just shall live by faith" exalt the sacrifice of the Lord Jesus for believers. Why is it important to sing about these truths?
The reason why we sing is because we are saved, born again, and this is only possible in Christ. When we were rescued, the Lord put a new song on our lips (Ps 40:3), the song of salvation. The church exists because of Christ, who is the head, so your eternal gratitude and praise to Him must begin here and now. As the apostle Paul says, the Word of Christ must abound in us (Col 3:16); that is, continuously, singing psalms, hymns and spiritual songs.
The reason we sing is because we are saved, born again, and this is only possible in Christ.
The album opens with the song "Only in Christ," which passionately and joyfully proclaims what we have received and are now in Christ. It also highlights the confidence we have in his work and in the promise of eternal life. Talk about the rest and perseverance that are experienced only in Him. This is all good news!
Songs like "The just will live by faith" remind us that we are running a race and how we should finish it, because we are aware that throughout the journey of our Christian life there are setbacks and adversities that tend to weaken our faith. Based primarily on Hebrews 12, this song exhorts us to run patiently, keeping our eyes on Jesus, the Author and Finisher of our faith, and not getting discouraged.
The reason for this is precisely the description of His sacrifice (Heb 12:2-4). That is, since Christ shed his blood for us, let us trust in his work, which is sufficient, and in his promise, because despite the trials we will reach the goal. The day will come when we will see him and be with him for all eternity.
The song "My soul sings to you" mentions praise from the lips, but also points to an adoration of the whole being. Do you want to tell us a little more about this?
Jesus taught that "out of the abundance of the heart the mouth speaks" (Lk 6:45). Is it worth saying "and also sings"?
"My soul sings to you" is a song of gratitude and celebration with a very happy melody and musical arrangement. It has letters from the same Scripture that invite us to bless and praise the Lord at all times and continuously (eg Ps 34:1). The song that comes out through the lips should be the sound of the cry of the soul that spells out in words its response to the redemptive work of Christ, who through His sacrifice in shedding His blood on the cross saved us when we were dead in trespasses. and sins (Eph 2:5), while we were His enemies! He forgave our sins, delivered our souls from Sheol, and redeemed them.
This song of joy celebrates His goodness, His faithfulness and His mercy (cf. Ps 30:11-12), more than enough reasons for our souls not to keep silent and, through our lips and with words, sing to Him forever.
Finally, what advice would you give to churches that want to create their own songs?
First I would like to note that, although it is a good wish, it is not a duty for all worship leaders to create songs of their own, because not all of us have the gift to compose and, even if we do, not all gifts are developed in the same way. God is sovereign and He distributes gifts to each one according to his will. That is why we should not feel pressured to achieve something that God has not given us, or to achieve it in the same proportion as others.
What we must seek is to be found faithful in our role of bringing songs to our churches that allow us to have a worship centered on the Word of God. Songs that help us inform and direct our minds and hearts, that lead our affections to God and make us contemplate the person, work and glory of Christ.
A simple definition of worship it helps us see what we should look for as ministers. Warren Wiersbe said: "worship is the response to what God is, says and does." So while songs of our own arrive—or if they don't—let us be diligent in seeking good songs and hymns that we can sing in our churches as our response to what He is, says, and does. This will give glory to God and we will be edified.
We must seek to be found faithful in our role of bringing to our churches songs that allow worship centered on the Word.
Our focus, as worship leaders and ministries, should be to "build up"; that is, to seek the unity of the faith of the whole body, through a greater knowledge of the Son of God, to reach the condition of a mature man, in the image of Christ (Eph 4:11-16). In short, if we seek edification, we grow and mature.
I always say that our worship is closely related to the pulpit of our churches, because "we sing what is preached to us." A greater knowledge of the Scriptures will allow us to choose—and write, if God grants it—songs with deep truths, according to our maturity as Christians.
Martin Luther said that "music is the maiden of Christian theology", attributing to it an important role, since it serves the purpose for which the Word of God is taught. The more we know the God we worship, the richer, deeper, and uplifting will be our response and experience of devotion and worship to Him.